At Ready Morocco Tours, we provide you a great desert tour from Casablanca. In other words, we cover the most important imperial cities such as: Casablanca, Rabat and Fez. In addition, our Morocco Tours include Chefchaouen, Merzouga and Sahara desert. Yes, a 14 days desert tour from Casablanca allows you to experience a great adventure.
14 Days Desert Tour from Casablanca:

On this 14 days desert tour from Casablanca, you will discover the magic of Morocco: Old Medina, North, Imperial cities, Sahara desert and Mountains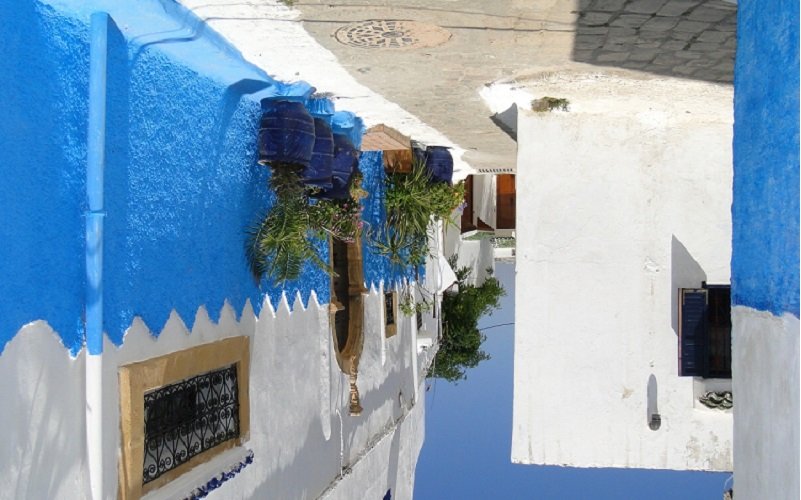 14 Days desert tour from Casablanca to Sahara desert
Day 1: Casablanca – Hassan II – Rabat.
Firstly, we will pick you up from your Hotel or Airport. Then, we will start our 14 desert tour from Casablanca to Rabat via the beautiful mosque of Hassan II. In other words, it is the largest functioning mosque in Africa and is the 7th largest in the world. Moreover, there's one more thing to do in Casablanca, Rick's Cafe.
Secondly, we explore Rabat, the capital of Morocco. For example, Oudaya kasbah has classic medieval architecture symbolic of Rabat's early history. So, it originally constructed in the 13th century for defensive purposes. In addition, the Mausoleum of Mohammed V located on the opposite side of the Hassan Tower. Three royals are buried here Mohammed V, Hassan II and his brother, Moulay Abdellah.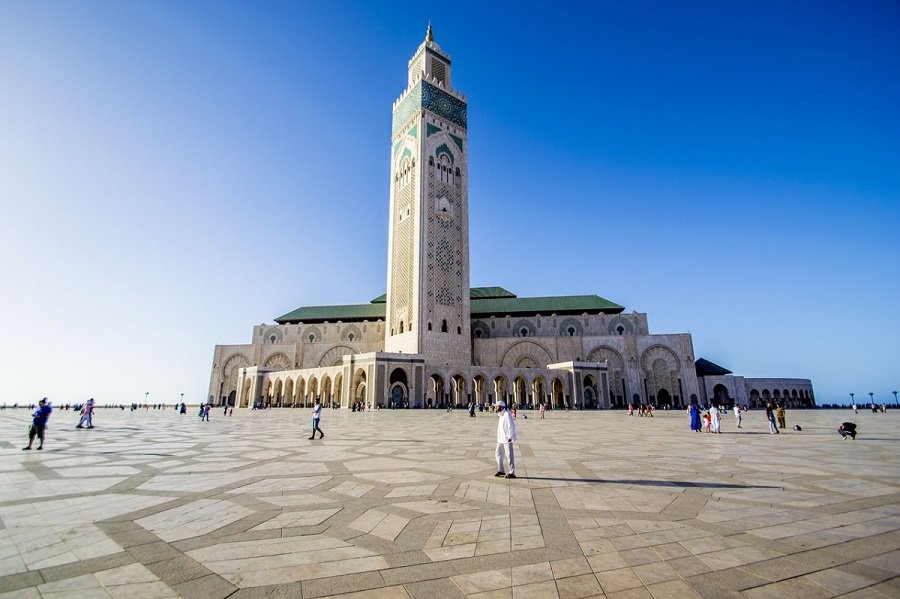 Day 2: Rabat – Rif Mountains – Chafchaouen.
After breakfast, we will drive to Blue town via the city of Kenitra and the Rif Mountains crossing Wazzan. It is Morocco's main agricultural area and other Rif villages. Chefchaouen is known as the blue city and has old Medina. As you walk in the old medina, you really have to go through all the little side paths and everything. It is really beautiful. Yes, most people wear traditional clothing and just about everything painted in blue. In other words, the colors have certain interruption because blue keeps away the flies, some say Jewish people started it because the colour reminds them of peace. Others say, a marketing ploy in the 1970's!
Day 3: Chafchaouen – Meknes – Volubilis – Fez.
Today, we will drive late to Meknes, El Hedim square, Bab El Mansour and Volubilis. In addition, Volubilis was the capital of the Roman Province of Mauritania. The ruins located on a hill with a great view of the valley below. The Roman ruins of Volubilis have some of the finest mosaics to be seen in North Africa. In other words, this place is absolutely one of the places you must visit when you're in Meknes. After that, Medina is the old town of the imperial city of Meknes. Obviously, El Hedim Square and Bab Mansour Gate, the main square of the city and the center, where all local people come in the evening. Really fantastic places!
Day 4: Fes Sightseeing tour – Fully Guided
If you are in Fez, a walk through the Medina is a must ! Besides, there are beautiful old souks, mosques, carpet shops, old leather tannery and copper smiths. However, this is a must when in Fes. There is also an old Jewish cemetery. As well as, you will have a very interesting experience as you go through a labyrinth of streets and shops all covered. In addition, there is another landmark! Bab Boujloud is the very elaborate gate to the Medina, the souk and the marketplace.
Yes, there is the Blue Gate which dates to the 12th century. The original gate is still there, right next to the new gate, and you can still see it as it lies to the left as you enter Bab Boujloud. Besides, Bou Inania Medersa is a wonderful achievement. This 14th century building was meant to be a school for Islamic teaching.
Day 5: Fez – Ifrane – Cedar forest – Atlas Mountains – Sahara.
Today, we will drive to Merzouga over the Middle Atlas, Ifrane, cedar forests and see the Barbarian apes. Next, we will head towards Ziz valley and Errachidia, on the way, we will enjoy the scenic views of the Atlas Mountains and rocky desert. Then, we will continue our desert tour from Casablanca by Merzouga where our highlight day will be! Yes, it will be a special night in Erg Chebbi Dunes.
Our Highlight Activity will be a camel ride in desert Merzouga, will give you a lifetime experience in the Sahara Desert by camel trek over the sand dunes of Erg Chebbi. The Sahara desert is amazing, sunset, camel ride, nomad tent, dinner, campfire and dancing.
Day 6: Sahara Sightseeing Tour – Erg Chebbi dunes.
Option 1: we will drive around Erg Chebbi dunes to visit the Merzouga area. Explore the road of the former Paris Dakar rally and the area. Such as: Khamlia village and Mfiss. We also visit musicians and some nomads too. Late evening, we will ride a camel crossing the dunes. Spend the night in the desert and play music. Why not? Sandboarding.
Option 2: After breakfast, we depart to the south of Erg Chebbi. In other words, we will arrive at the mine location of Dinosaur teeth and bones. Yes, we spend time to wonder or dig. After that, we will go to Taouz to visit the antique city of Ouafilal and the desert painting.
Day 7: Sahara – Rissani – Todra Gorges – Dades Valley.
Departure to Todra gorges via Rissani which is known by traditional market. The market here is huge and attracts sellers of all sorts of cottage industry products. Besides, we will continue, to the road for Erfoud, famous for its marble fossils. Great place to see what is done with the exhumed fossils. After that, we will continue to Todra Gorges to enjoy a walk through the oasis on Tinghir. Moreover, Todra gorge is a particularly narrow gap in Atlas Mountain with a river. So, this is a mystical torchlight hike through the gorges.
Day 8: Dades – Nomads caves – Ouarzazate.
Today, we will drive to Ouarzazate via the Rose village and Skoura Oasis. We visit Dades gorges and take the off road track to see the nomad caves. The twisty road is an absolutely gorgeous place with breathtaking views. It is a beautiful green oasis among tall cliffs and winding roads. In addition, we stop to explore Amridil Kasbah which is one of its oldest buildings, dating back to the 17th. A picture of the Kasbah Amridil has been featured on a version of the 50 Dirham currency due to its historic significance. The site holds a lot of detail in its design, architecture, artisanship and accessories.
Day 9: Ouarzazate – Ait ben Haddou – Taroudant.
A part of a 14 day desert tour from Casablanca goes by Taroudant through the kasbah of Ait Ben Haddou, a UNESCO site. In the Afternoon, we drive to Taliouine, famous for its safran and join Taroudant, also known as the small Marrakech. Along the way, this is a beautiful small walled city that many recognize from its starring role in many films and TV. Well worth the side trip – cross the river on foot, up through the city gates and hike to the top for the views. In other words, Ait ben Kasbah became popular for movie sets such as Laurence of Arabia, Gladiator and Game of Thrones. There are few people living inside the Kasbah and listed under UNESCO since 1987.
Later on, we will continue the desert tour from Casablanca through Atlas Mountains and Taliouine town arriving at Taroudant late evening, sitting approximately 80 kilometers east of Agadir. Besides, geographically it's directly south of Marrakech and is framed by ramparts.
Day 10: Taroudant – Essaouira.
We will head to the former Portuguese city of Essaouira through the South of the High Atlas Mountains and Souss Valley. Enjoy a charming old fishing town on the coast, jewellery stalls and other handicraft stalls. It is a UNESCO World Heritage listed city, an example of a late 18th century fortified town. In addition, famous by the 'Wind City of Africa', it attracts plenty of windsurfers between April and November.
Day 11: Free Day
The Medina. The old town, the "Medina " of Essaouira walled with several gates. In other words, the most precious gates are Bab Doukkala, Bab Marrakech and Bab el Mrsa (Scala the Port). So, we highly recommend exploring the city on your own because it is a quiet and small town. Moreover, all sites are connected and close to each other, there is no access to drive the car unless you want to go to Surf!
Day 12: Marrakech – Argan Tree Goats – Essaouira.
On the way to Marrakech, we will see goats climbing the Argan trees to get at the fruit pulp that surrounds the nuts. The reason why the goats climb trees is to eat! Firstly, they feel hungry and force by the owners too because tourists will stop to take photos and may tip them.
In Morocco, Argan Oil is used for cosmetic purposes and it is also used to dip bread in breakfast.
Does Argan only grow in Essaouira zone?
Argan is one of Morocco's most famous products. Moreover, it grows only in one region of Morocco, the southwest area around Essaouira and Agadir.
Day 13: Exploring Marrakech.
Today, we will explore Marrakech. So, the guided city tour takes you into Jardin Majorelle, Saadian Tombs and Souks. In addition, there is the Bahia Palace and the Koutoubia Mosque. In other words, late evening, we enjoy Jamaa el Fna, which is the city's historical and entertainers.
Day 14: Departure to Airport.
Today, We drive to Airport and say Good bye! It will be a 14 days desert tour from Casablanca "full of memories"
"Hope to see you again and use our services in the future" Thanks.
We still open minded to design your own travel itinerary, if our Desert Tour from Casablanca by Erg Chebbi, don't suit what you are looking for!