Best 8 day tour in Morocco from Marrakech. So, we will visit many fabulous places such as Imperial cities of Rabat, Meknes, Fez and Marrakech and the Sahara desert in best 8 days tour from Casablanca. Firstly, we will visit the famous Hassan II Mosque in Casablanca and move to Rabat. A guided Morocco tour is here to visit Hassan Tower and Old Medina. In addition, we will cross the High Atlas Mountains, its Tizi Ntichka pass and visit the UNESCO world heritage. Therefore, this Moroccan itinerary is best way to learn and visit the big part of the country discovering its culture, exploring the Saharan desert of Morocco.
Day 1: Casablanca – Hassan mosque II – Rabat.
We pick you up from the airport or accommodations and will drive to Hassan Mosque II, the most impressive building. It is located on the west coast of the city on overlooking the Atlantic ocean. So, in these best 8 day tour / 7 nights we will visit rabat the capital of Morocco, one of the imperial cities. In other words, the Hassan Tower, the Mausoleum of Mohammed V and the Kasbah ou Oudayas.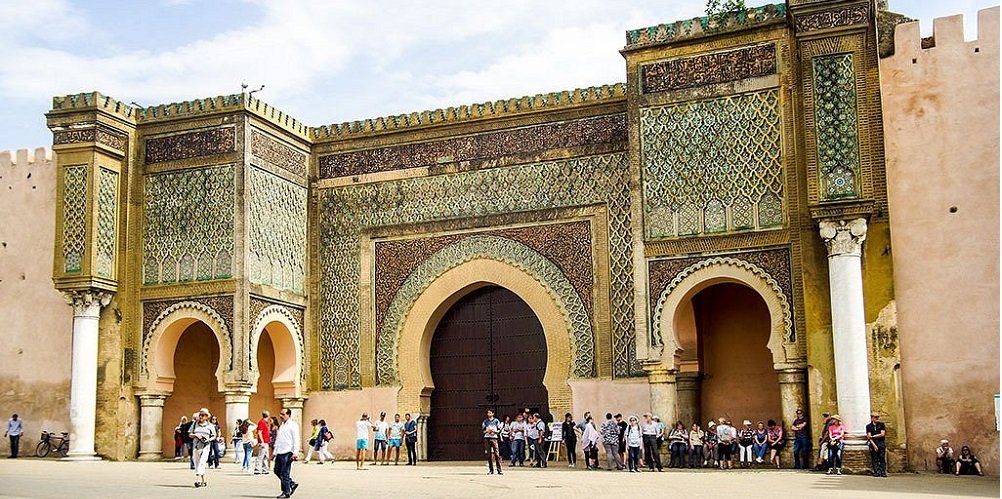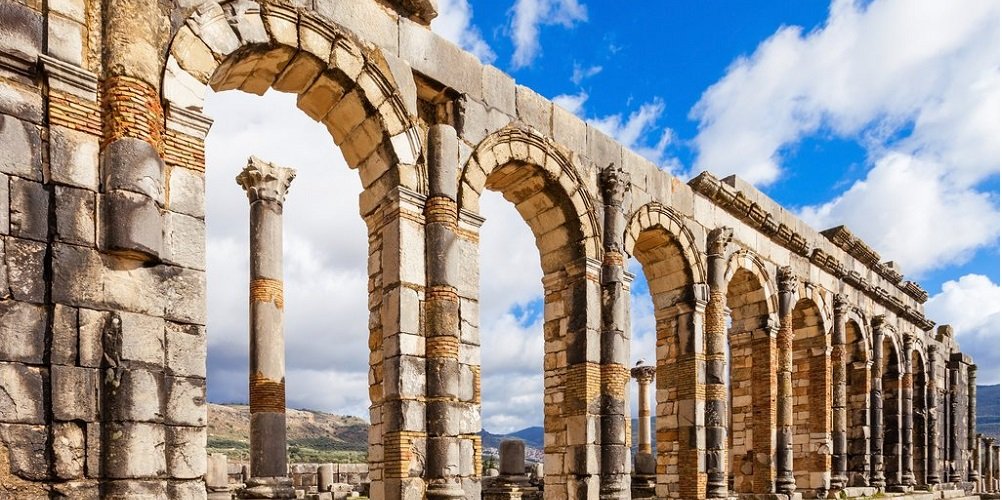 Best 8 Day Tour from Casablanca

Visit the Hassan Tower in Rabat, Explore Fes – Marrakech with a local guide. Meet Barbary Apes in Azrou Cedar forest, Sahara Desert, Camel Ride, Ait Ben Haddou Kasbah, Fossil and Marrakesh.
Day 2: Rabat – Meknez (Volubilis) – Fez.
Today, we will continue our best 8 day tour in Morocco towards Meknes. In other words, one of Morocco's four imperial cities and the remains of the former capital of the kingdom. The city founded in the 11th century by the Almoravids as a military settlement, Meknes became a capital under Sultan Moulay Ismaïl (1672–1727), the founder of the Alawite dynasty.
During this best 8 day tour in Morocco, we will continue our journey from Meknes towards Fes passing through Volubilis. You'll have a guided tour of the ancient, Berber-Roman city of Volubilis. It is an Archaeological Site is located in a fertile agricultural area, about 30 km north of Meknes. In other words, Volubilis is the site of the largest and best preserved Roman ruins in Morocco, an open air museum and world heritage site.
Day 3: Fez – Full Guided Tour.
Today, you will have a guided tour in Fez by local guide to explore the iconic imperial city. ne of the world's largest walled-in cities. Our full guided day in Fes includes the main historical sites. You'll visit several places today, including the medina, Souks, Tanneries, Ceramic and the Royal gate.
Day 4: Fes – Cedar Forest – Ziz Valley – Merzouga.
Today, we will continue our best trip towards Sahara desert from Fes by Cedar forest. Along the way, we will stop by Ifrane city, described as Moroccan Switzerland town due to its nature and climate. As well as, we will travel through Middle Atlas Mountains and small towns, like Zaida and midelt. We will also make a brief stop at Errachidia's dam, a large lake. Moreover, we will continue to Merzouga desert which permits you to travel to the deep southeast of Morocco. You will experience a camel trekking over the Erg Chebbi.
This desert trip to Merzouga offers you a night on a luxury camp in the Erg Chebbi area, a camel riding to experience the sunset, and a night under stars.
Day 5: Merzouga – Jorf Erfoud – Todra Gorges – Dades Valley.
On this day from Merzouga to Dades Valley will pass by Erfoud known by Fossils and geology. However, Erfoud also has exhibits featuring other unique things, including meteorite fossils, a giant Trilobite and desert roses. In other words, the best place to find fossils, is in the town of Erfoud near Ziz Oasis, and the famous Erg Chebbi Desert.
After that, we will continue to Jorf, Tinjdad and Gorges. As well as, the oasis of Jorf is irrigated with underground water, which is the only permanent water resource, and with flood water coming from transient rivers. The khettaras constitute a hydraulic system for mobilising water by gravity from the water table to the surface to irrigate fields in oases.
Then, Hiking in Todra Gorge in Morocco not only provides spectacular views and a challenging hike, but it can also provide an opportunity to actually see the local people and daily life. 255 kM.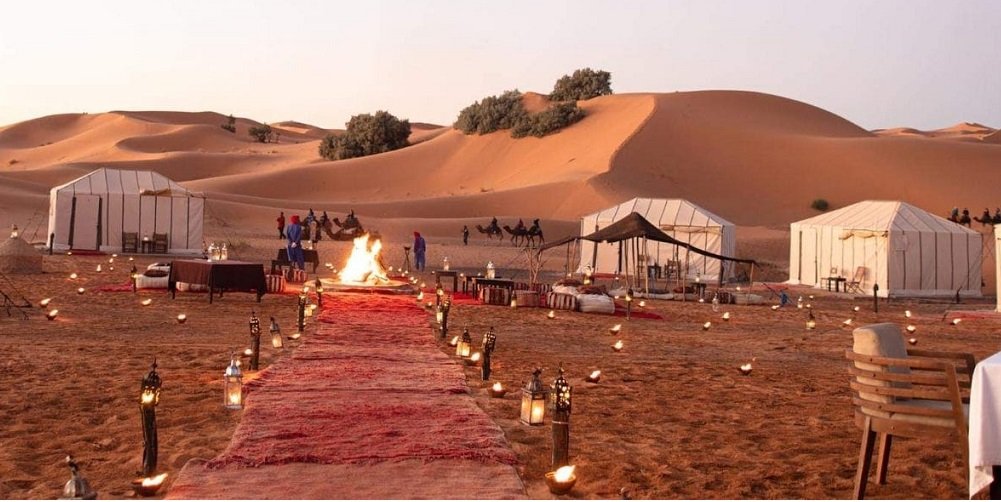 Kasbah Ait Ben Haddou

During our Best 8 day tour, we will visit the fascinating Ksar of Ait Ben Haddou, and listed as a UNESCO World Heritage Site in Morocco in 1987. In other words, between Marrakech and Ouarzazate lies one of the most scenic routes in Morocco.
Day 6: Dades Valley – Ouarzazate – Ait Ben Haddou – Marrakech.
After breakfast in the hotel or Riad, We keep trevelling our best 8 day tour via Ouarzazate or Moroccan Hollywood and the High Atlas Mountains or Tizi N tichka pass. In other words, we will visit the Ouarzazate city and discover many places. For instance, Kasbah of Taourirt and Atlas film studios. In addition, we will have the chance to visit the universal Heritage Site of Ait ben Haddou Kasbah as it has been listed under UNESCO World Heritage Site since 1987. In the Afternoon, we will drive to Marrakech over the Mountains of High Atlas passing through the Tizi N'tichka pass (2260 m). Drop off in Marrakech. 345 KM.
Day 7: Marrakech Guided Tour – Medina.
Today, we will explore Marrakech city. So, the guided city tour takes you into Jardin Majorelle, Saadian Tombs and Souks. In addition, there is the Bahia Palace and the Koutoubia Mosque. In other words, late evening, we enjoy Jamaa el Fna, which is the city's historical and entertainers.
Then, This private half day walking with local tour guide will ensure you to see main attractions such as the souks, Koutoubia Mosque, and Djemaa El Fna without getting lost or wasting time. In other words, Your official tour guide will show you the major landmarks of the Red City.
Day 8: Airtport Transfer.
Today, We drive to Airport and say Good bye! It will be a Best 8 day tour from Casablanca to desert with "full of memories"
"Hope to see you again and use our services in the future" Thanks.