Essaouira trips from Marrakech where is a refreshing change from Marrakech's warm. In other words, it's a coastal city and it offers a picturesque medina (old town) surrounded by seawalls and city walls. Besides, French designed this architect in the 18th century. Then, a harbor with fish market. So, what are things to see in Essaouira?
-Visit the traditional port.
-Goats climbing Argan trees.
-Old Medina.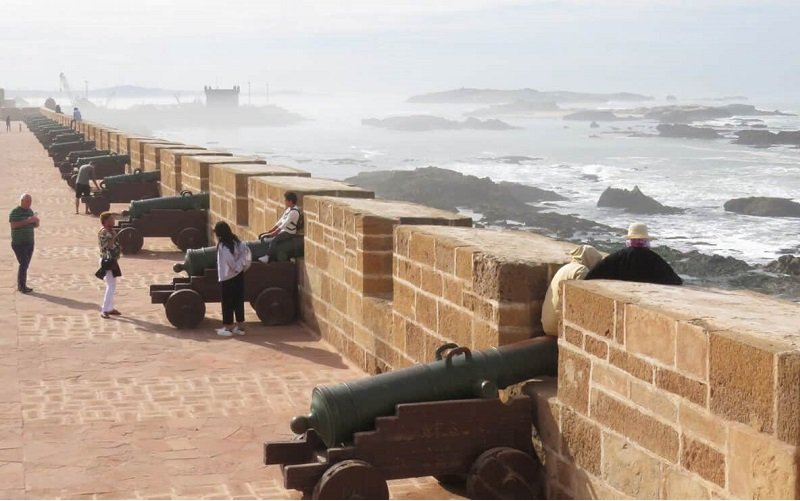 Essaouira Trips will leave at 08:00 and returns back to Marrakech at ~ 18:00 hrs. Yes, we will drive through Argan trees and small villages. Essaouira occupied by Portuguese, and more known by the port. In other words, it offers an excellent view on the sea. Then, there are many fishing boats floating on the water and many birds flying around the beach. As well as, Medina and Jewish Cemetery. On the way, you will be able to see the surrounding countryside. and why not? if you are interested, we stop for a visit in Argan Oil Women Cooperative.
See the ramparts and the Old Town with its beautiful medina and jewish district. Moreover, Old Medina listed under UNESCO world heritage site and was famous for its Tyrian factory which supplied Rome with the legendary purple dye.
The ancient Mogador or Essaouira is a great place to learn how to surf, because of its easy waves. Then, it is a beautiful place to surf in Morocco. So, if they are interested to practise this sport. Also, Essaouira has many beaches nearby. Therfore, it is charming town to include in your holiday in Morocco.
Gnawa music festival held annually in Essaouira. Moreover, Gnawa music is a rich repertoire of ancient African Islamic spiritual religious songs and rhythms. The principal feature of the festival is the celebration of Gnaoua music and rituals.